Get your Finch bird feeders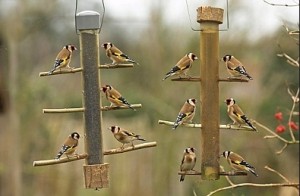 You will often find finch bird feeders in the homes of bird enthusiasts. These are usually hung or just planted in the ground on high sticks especially during the winter season. Finches are naturally very easily spotted due to their stunning bright beautifully colored feathers, making them easily differentiated from other birds. Finches are usually more independent as they do not need any extra attention from their owners, as long as they have other finches as company. Thus you may question why a need to have finch bird feeders since they are not attracted to us, but the answer lies in each individual who have a passion for these finches, which are just so breathtaking looking at them.
Finch bird feeders are usually used to attract more birds to the yard or the house compound especially during the winter season. As food is harder to be found during the winter season, these birds will choose to look for food in these finch feeders. The scarcity of food during the cold season is also a major factor as these finches need a lot of food to generate energy in order to keep them warm.
Finches' primary food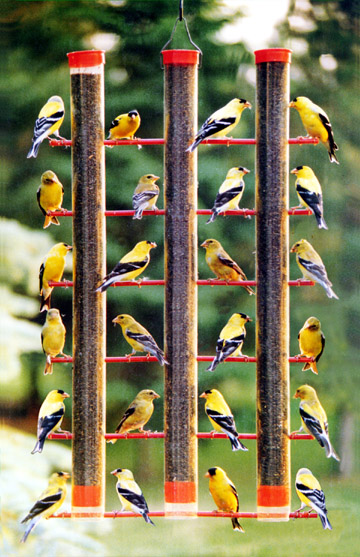 Finches' primary food is seeds namely sunflower seeds and Niger seeds. However, just as added information, although seeds are the principal item in a finches' diet, a good combination of seeds is still inadequate to ensure that finches have a balanced diet. It is also important to be made aware that nutrient needs of finches do change with time in their life cycle as they go through many stages. Apart from that, finches too eat crackers, fruits such as apples and pears and also bread crumbs. If there are any cookies or even doughnuts, do break them up into smaller bite sizes for the finches to much on. The greatest attraction in terms of food for finches is the salt block, as these birds are really craving for them.
Finches normally eat directly from the tray feeders or also the tube feeders as all that is needed is just a place to perch, thus having enough room for them is essential as this will affect the attraction of the birds towards the food that is being offered. Therefore, it is very important to make sure the finch birds feeder's are properly clean and make sure that food are being placed at the proper area and is adequate for the whole winter season. As time goes by, soon the finches will be more dependent on the food that is being offered. One of the all time favorite food of the finches is the nectar which really attracts finches to be at a nectar feeder for long period of time.
Attraction to the Finch feeders
Finches are made up of a very large family which involves cardinals, sparrows, grosbeaks and much more. It is certainly very interesting when you watch which type of birds will be attracted to your own finch birds feeders, with a reminder that the feeder is constantly filled with food. But, the type of birds or finches that are attracted is also widely determined by the type of food being placed in the feeder. However, do be aware that the birds may change with the seasons and you may be shocked at the wide variety of birds that may be attracted to the finch birds feeder.
[ava]
Recommended Reading